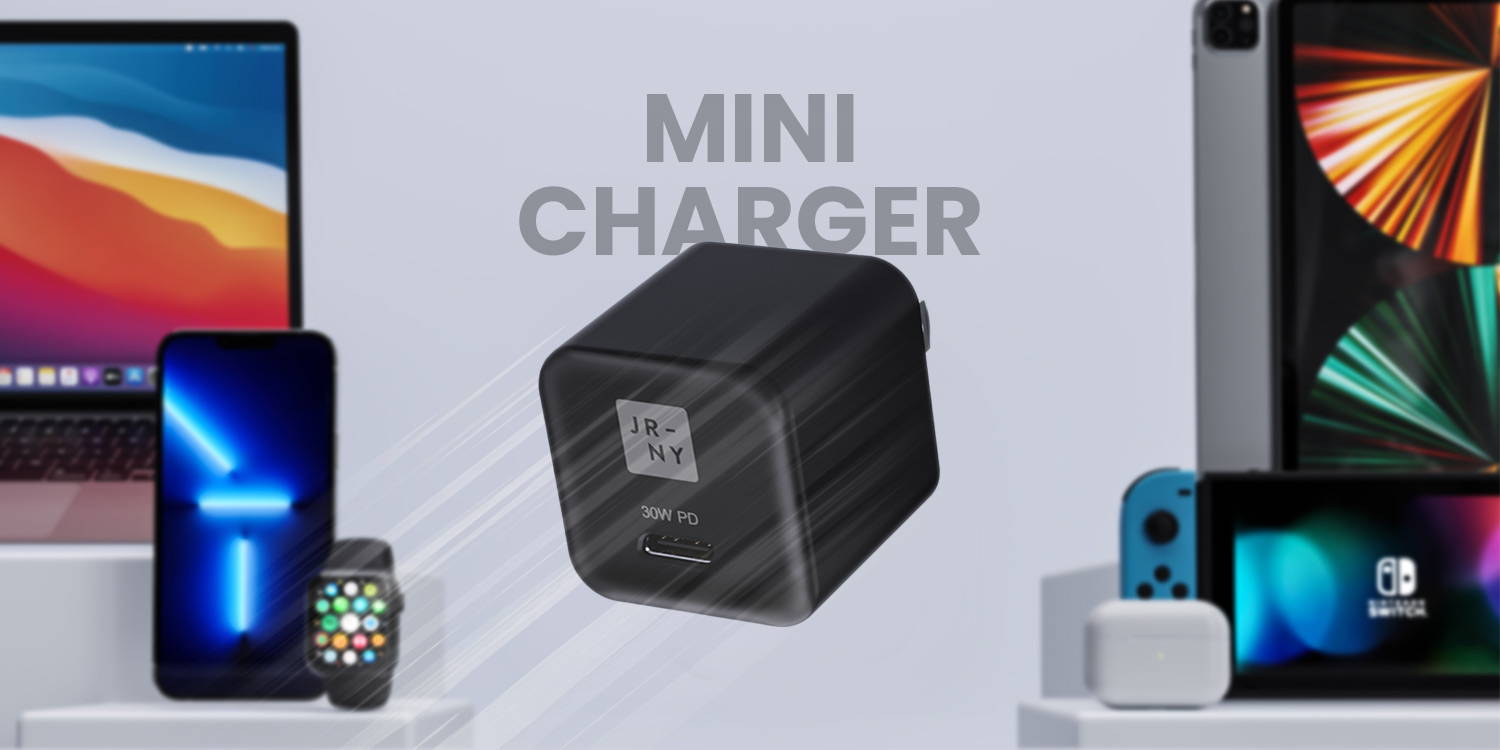 At less than half the size of other chargers, JOURNEY's 30W Mini Charger outguns much bulkier counterparts. The single-port USB-C device is perfect for hassle-free pocketing in your jeans, laptop bag, or travel bag.
The Mini Charger, which features USB PD 3.0 fast-charging capability, delivers up to 30W power to your devices. Plug into JOURNEY's charger to bump your iPhone 12/13's battery to 50% full in as little as 30mins.
CHARGE MORE USB-C DEVICES
The Universal Charger for All Charging Needs.
The extremely compact Mini Charger is built to power your smartphones, tablets, and ultra-portable laptops, including Apple MacBook Airs and Microsoft Surface Pro 8s*. For households and offices with versatile charging requirements, the Mini Charger acts as an all-in-one port for full USB-C device suites..
*Different laptops have different power needs. The Journey Mini Charger is designed to power laptops with smaller power requirements. Ensure 30W is adequate power to charge your laptop.
THE LATEST GAN TECHNOLOGY
Built with the Most Advanced GaN 2 Chipset
GaN [Gallium nitride] is a next-generation alternative to traditional silicon materials. JOURNEY'S Mini Charger features new and improved GaN technology [GaN 2], enabling greater charging efficiency than ever, all within an unprecedentedly tiny body. The Mini Charger meets all safety requirements necessary to deliver maximum power to your devices without compromising on electrical safety or battery life.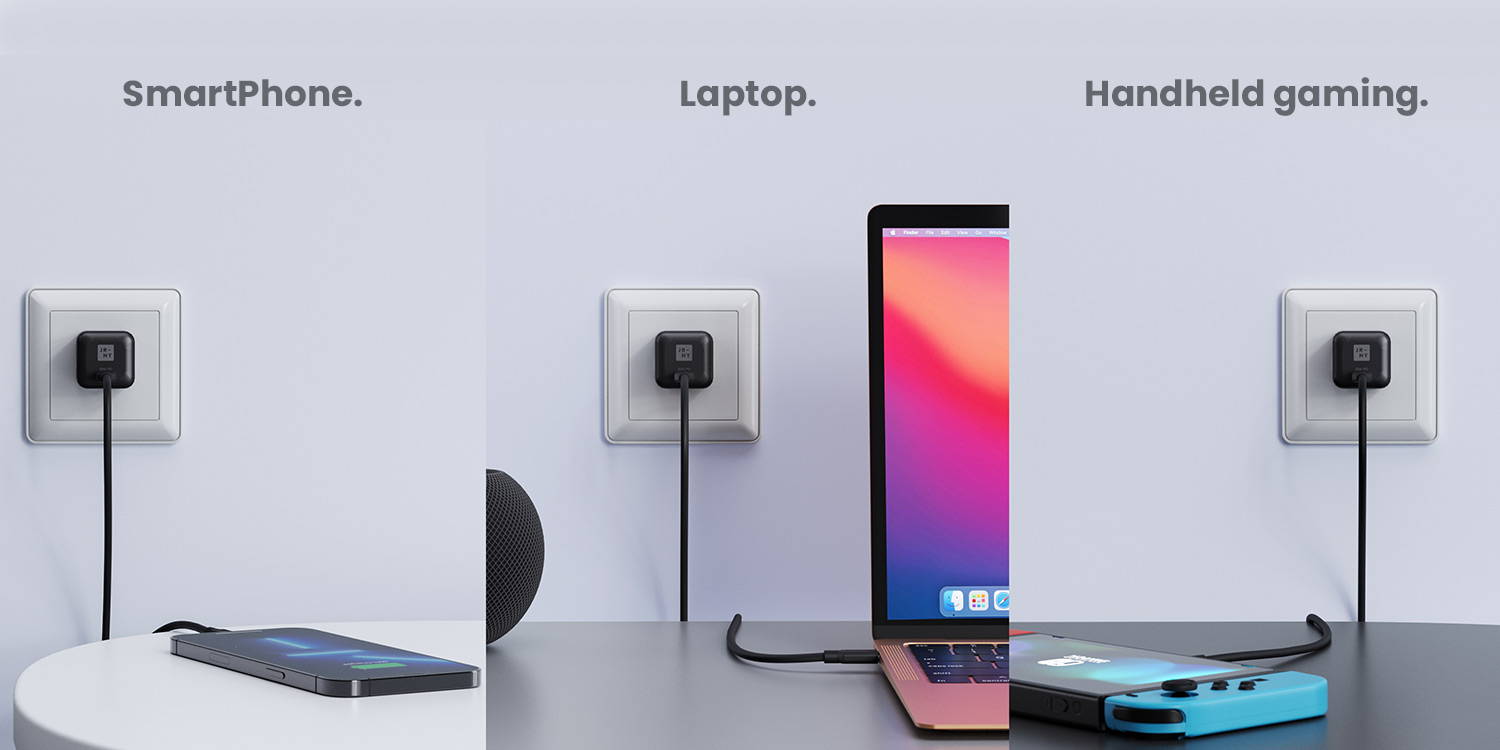 Dimensions -

30 x 30 x 30mm (excluding plug)

 

Weight - 40g

Color - Black

Connector Type - USB Type C

Input - 100-240 Volts (AC)

Output - Upto 30W

Warranty - 2 years
Super Fast Charging and intelligent power distribution optimizes efficient power delivery everytime
Advanced GaN 2 Technology chargers consume lower power and has a charging efficiency of 95%
Ultra Compact Design and 59% smaller size makes it very portable and travel friendly
Universal Compatibility allows for seamless use with all USB-charged devices
Multi-Protection Mechanism protects against overheating, overcurrent, overvoltage ensuring a safe fast charging
Q: Does it include the charging cable?
A: No, it does not. The cable needs to be purchased separately.
Q: Will it deliver fast charging for my iPhone or power my MagSafe charger?
A: Indeed, it will!
Q: Does it come with international adapters?
A: No, it does not. But its intelligent design is compatible with international electricity mains , and can be safely used with adapters.
Great charger
Charges fast! Like the compact size.
Powerful, small, well made
I bought this to charge my smart phone. Truly Like the small size...great for travel. The Quality of the charger is visually obvious. Very happy.
Works great, Customer support is superb.
I purchased 2 chargers but the usb-c ports felt very loose, I contacted Journey support and they issued replacements right away. The chargers work great. They Charge my iPhone 12 pro max and my 2018 iPad Pro quickly and barely gets warm doing so. Thank you again Shelly for making my Journey customer support experience superb!!!
Works great! Charges Fast
I have been using this device for a few weeks paired up with a magsafe Journey iPhone holder. Granted you don't get the full fast charge this way because of the limitations of the magsafe product, but from the cord this charges my iPhone 12 pro max in a hurry!
Small powerhouse
This is an excellent charger. It charges my iPad Pro waaay faster than the previous charger I was using. Just be sure to use the correct cord. I use the Apple USB-C charge cable.