On Sale
3 in 1 Wireless Charging Station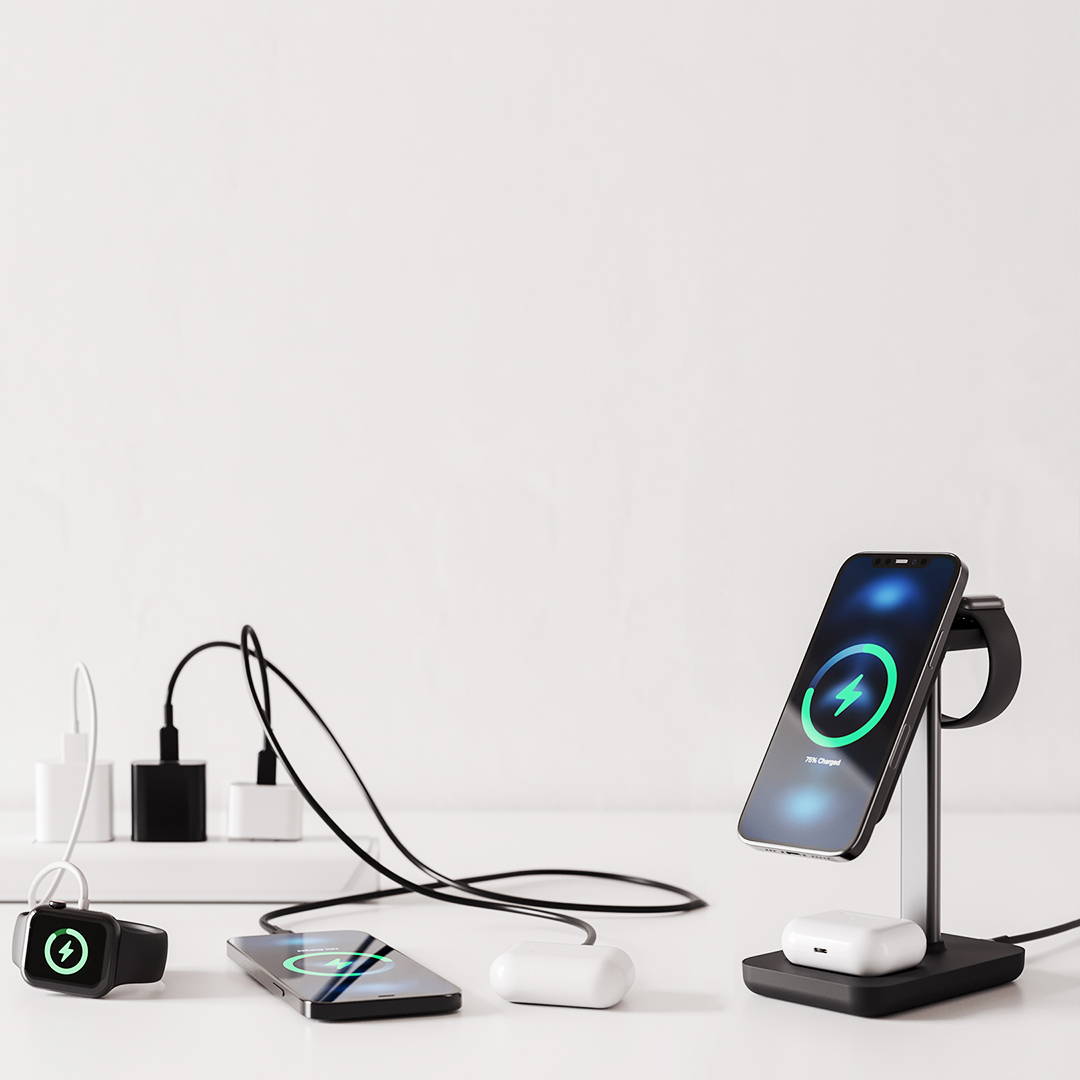 No more messy charging cables.
Quickly remove all the cords hanging around your nightstands, working desks, or living room end tables.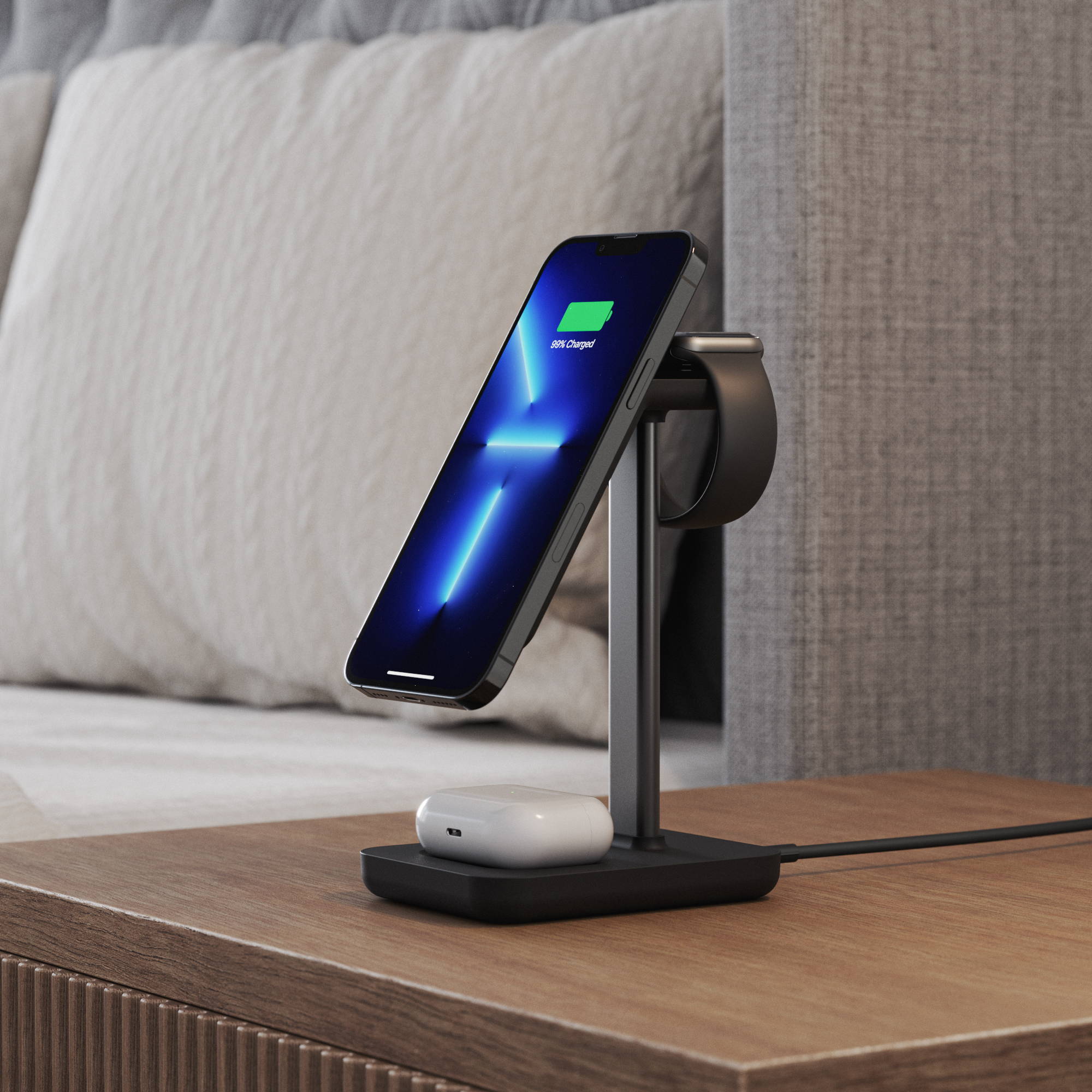 Charge 3 devices wirelessly.
Charge all three of your Apple devices, iPhone 12 or 13, Apple Watch (All Models) & AirPods (Wireless Charging Enabled) together with Journey's 3-in-1 Wireless Charging Station.
Enjoy the clean look next to your bed!
Charging indicator designed for uninterrupted sleep.
Unlike other 3 in 1 chargers on the market. We prioritise your experience than anything else. The light is design to face upward and just enough to let you know your items are being charged.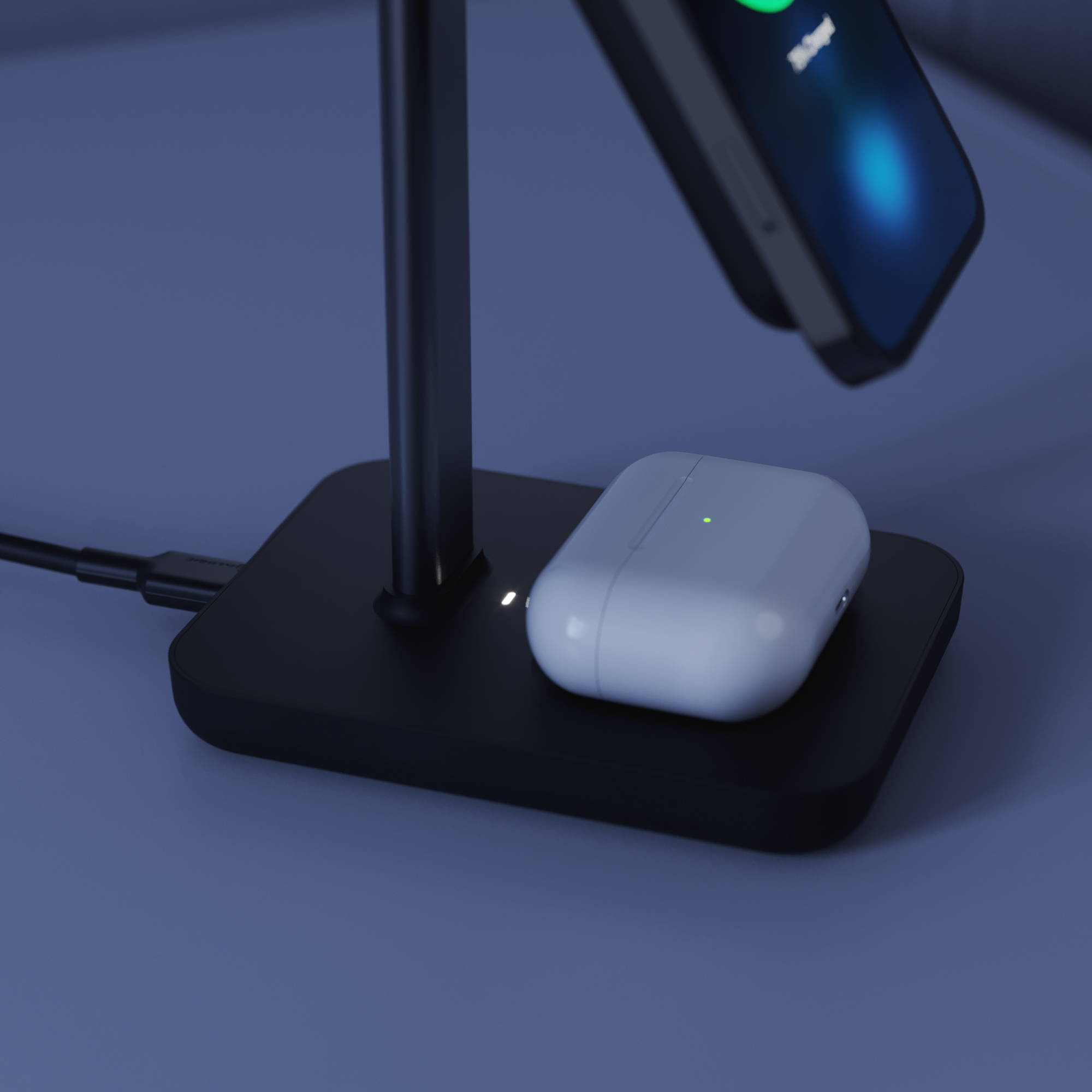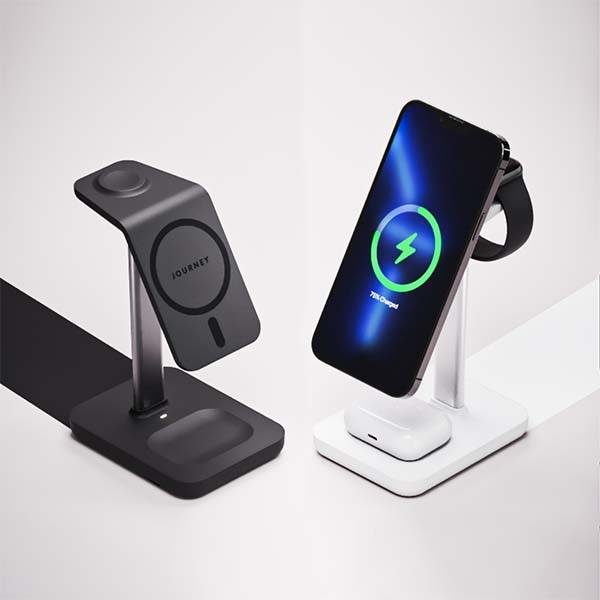 DESIGNED FOR BATTERY LIFE LONGEVITY
Keeps the battery healthy while charging fast.
With over-current protection, over-voltage protection and over-temperature protection as well as foreign object detection function, the charger can prevent over-charging your device's battery. Our new charging technology charges your phone 2x more efficiently than other chargers.
IN BUILT APPLE WATCH CHARGER
Compatible with all Apple Watch models.
Fast Charge your Apple Watch in less than 2.5 hours. Compatible with watch sizes: 45mm, 44mm, 42mm, 40mm , 40mm and 38mm. Compatible Apple Watch models: Apple Watch Series 7-1; including Apple Watch Sport, Apple Watch Nike plus, Apple Watch Hermes, Apple Watch SE and Apple Watch Edition.
Best with Magsafe compatible cases.
Works best with all MagSafe compatible cases. However, you do need to remove your credit cards or anything in between the case and the charger when in use.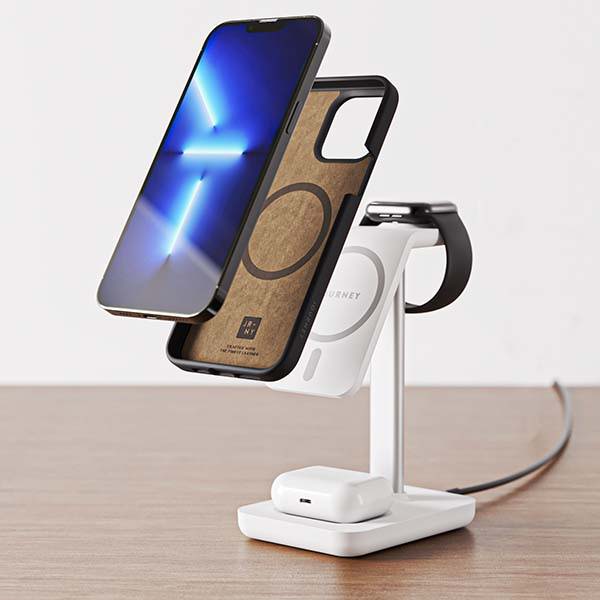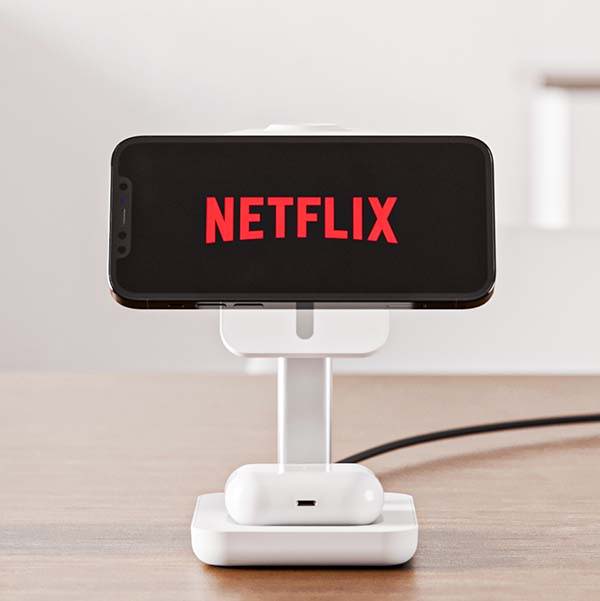 Snap it. Charge it. Enjoy it.
Use your phone the way you want with the MagSafe compatible iPhone charger, mount it at a slight angle for the best experience in both portrait and landscape modes.
Anti-slip design with strong base.
Put this charger anywhere you like - your desk, next to your bed, your living room etc and simply put all your Apple devices together!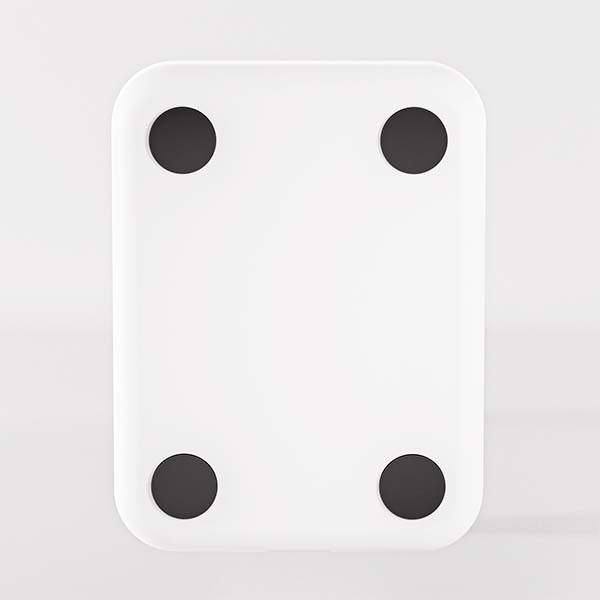 Step 1: Unbox the Charging Station
Remove all the contents from the box. Box includes: Charging Stand, USB-C Cable and User Manual.
Step 2: Connect to a Power Source
Connect the USB-C cable to the charging stand and the USB- A to a power adapter. We recommend using a wall charger with an output of 18W and above (Wall charger not included).
Step 3: Ready to Use
Charge your iPhone by simply mounting your phone by bring ing it close to the wireless charging pad, place your Apple Watch and AirPods on the designated spots on the stand. Now enjoy fast wireless charging for all your devices!
Dimensions - 163.3mm (H) x 113.1mm (D) x 85.6mm (W)
MagSafe Compatible - Yes
Weight- 325 g
Package Contains- 3 in 1 Wireless Charging Station, USB-C Charging Cable, User Manual (

Doesn't include wall charger)
Specially created for iPhone 13

and 12 series

Strong magnetic hold that auto aligns and holds your phone in place

Charges all 3 devices (iPhone 13/12, Apple Watch -All Models & AirPods - Wireless Charging Models)at once- no extra cables required
Easily mount your iPhone in portrait or landscape mode while charging
Q: Does this work with Android phones?
A: No, this charger is especially made for MagSafe compatible devices (iPhone 12 or 13) and accessories and does not work with Android phones.
Q: Does it work well with all 3 devices being charged together?
A: It will work perfectly fine if you put all 3 devices on it. With the latest technology, it can fast charge all 3 items at the same time
Q: Does it work with a phone case?
A: Works with MagSafe compatible cases. It can also be used without a case.
Q: Will it work with iPhone 12 & 13?
A: Its designed to work perfectly with iPhone 12 & 13.
Q: Does the magnet have any side effect on my phone?
A: No, the latest smartphones and accessories are not affected by magnets and many smartphones like iPhone 12 & 13 have magnets inside them.
Q: I used some other 3-1 chargers before but the Apple Watch charging speed is pretty slowly. Will this be different?
A: This charger will charge your Apple Watch at a standard speed as an Apple charger so you can be rest assured about the charging speeds. (To be used with a wall charger with a minimum output of 18W for best performance.)
Q: Will it work with the latest Apple Watch series 7?
A: Yes, it works with all Apple watch series 1-7 and SE.
Q: Can I use that with my AirPods Pro?
A: Yes, it works with the AirPods Pro and all other AirPods models which support wireless charging
Q: How bright is the light on the charger at night?
A: The design of the charger includes a small light indicator to let you know the charging status. The light is not obstructive and is most suitable for nighttime charging.
Q: I use a 15 Watt adapter to charge my phone, can I use the same adapter for this?
A: We recommend using an 18 Watts or above adapter for efficient power delivery.
Looks Great Very Happy
I'm so happy to have my iPhone 13, my Apple Watch SE and my AirPods Pro charge nightly on a single appliance. It's slim and attractive. The only negative thing is I'll randomly/frequently hear my watch beep as if it's been disconnected and then reconnected to power. I'm not sure if that's the internal charging piece being flaky or the watch simply being lose on the unit. 5 stars if that didn't happen.
Buy this now!
It looks great and it does what it was supposed to. I just got the iPhone 13 mini so it wasn't working with my old wireless charger because of the size but not that I got this one that uses the magsafe charger it works great and it's much faster to charge. It was easy to put it together, it comes with instructions, if you don't know what you are doing or don't feel confident just READ IT!!!! Remember that you have to buy your own magsafe charger from Apple in order to use that wireless charger (IT DOES NOT COME WITH IT). It will come with a power brick tho. The charger for the apple watch feels good just like the original one and it holds good as well. It has a small white LED light for when you put your Airpods on it but it will not stay on, it turns off after a few seconds which is nice for people that has it right next to bed (like me) and don't like to have any lights on at night. My only complaint will be about the price, which is not a deal breaker because the product is good quality but I still think it could be a little bit cheaper.
The apple watch charging cable, you will wrap the cable within harness chips
Such a great product. I'm able to charge my phone, air pods and watch. Used to hate the idea of having so many wires plugged in. This was the perfect solution. Also, looks great on my desk.
Best home charging stand available for Apple devices
This took care of charging needs for my buds, iwatch and my iphone in short order. Takes up little room on my desk which is important since i work from home (thank you Corona) and desk space is at a primium in my home.
EASY SET UP, SLEEK DESIGN, DOES WHAT IT SAYS!
I purchased this to clean up my room. There were simply too many wires for my Apple Watch, iPhone, and AirPods. The mess has been cleaned thanks to this device. It's affordable and works perfectly. Will definitely recommend it to others!