On Sale
Magnetic (MagSafe) Wireless Car Charger
🎁 Get 20% OFF with code TAKE20 . Limited Time Offer !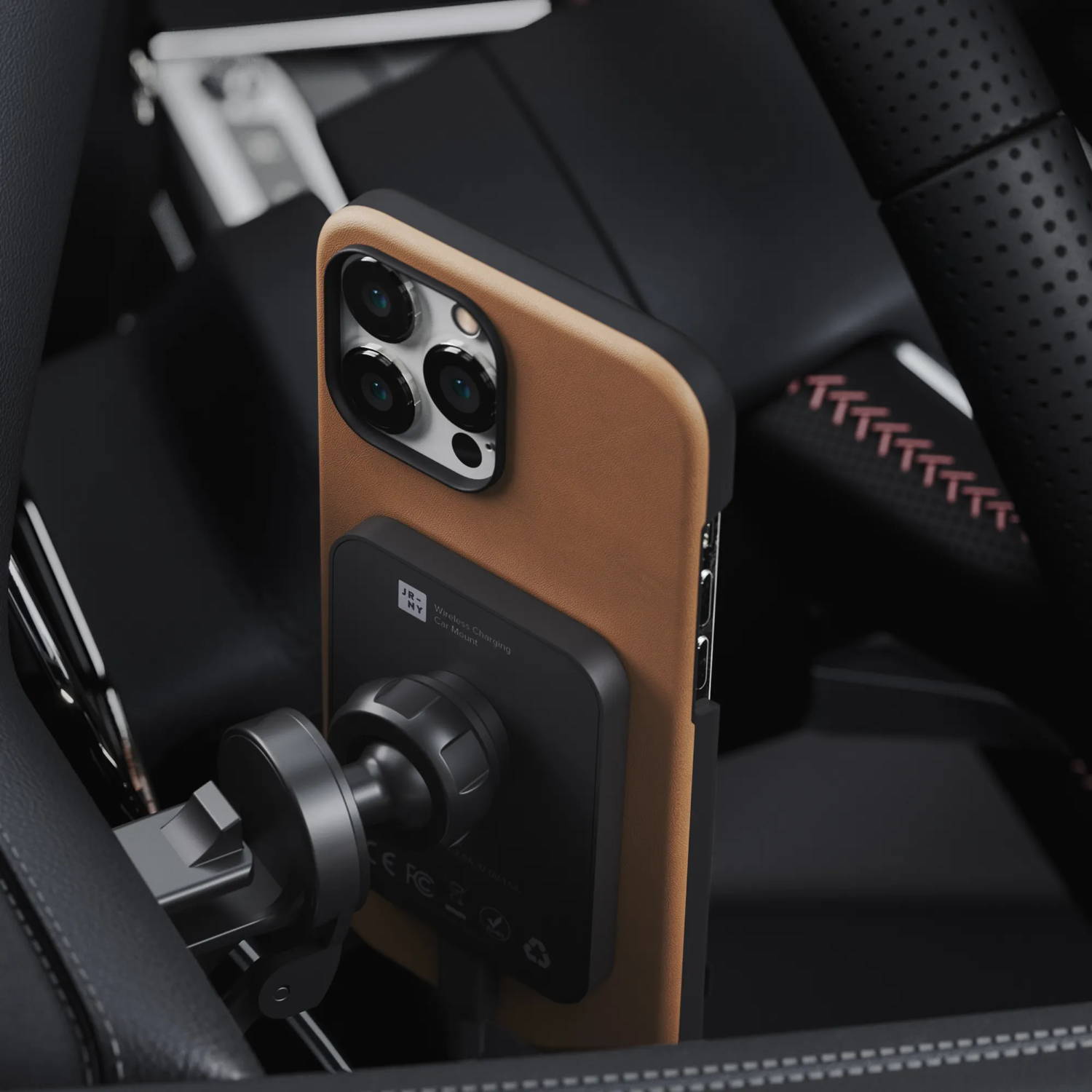 Tidy up your car for a safe driving experience.
Quickly remove all the cables hanging around your car. Designed for a safe and comfortable drive.
We use our proprietary magnetic system that is 2X TIMES STRONGER than Apple's MagSafe magnets. Design elements feature an additional fixture in form of a support arm which provides the firmest grip. It easily clamps on to the vent and keeps the mount in place.
*Must be used with MagSafe Compatible Case.
The charger can provide UP TO 15W to your phone. Connect the included USB-C cable to a USB port in the car or an appropriate car charger and the device is ready to use. Let's keep your car tidy with just one cable.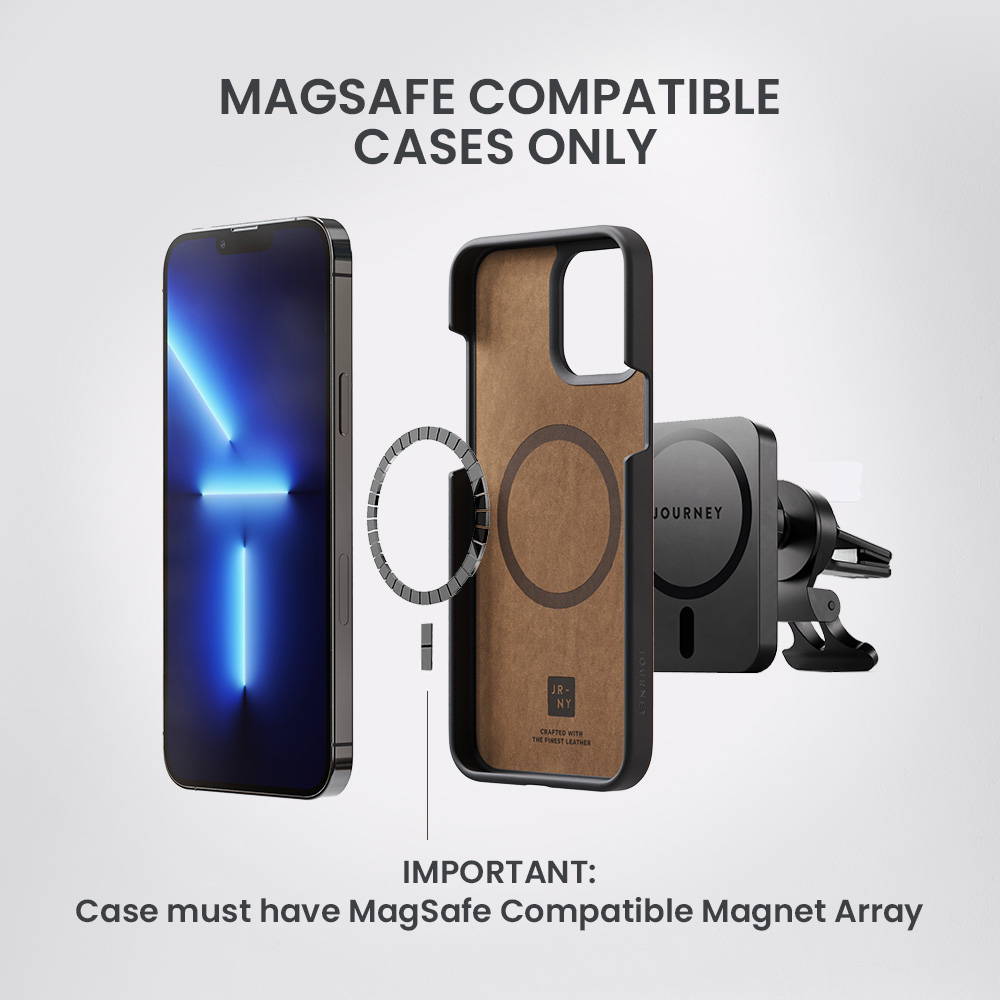 Work With all MagSafe Compatible Cases.
The 2-in-1 charger mount is designed especially for MagSafe compatible iPhone 14, 13 and 12. It works without any case or WITH MAGSAFE COMPATIBLE CASES.
Auto Align Portrait Or Lanscape
Rotate your phone in any angle you want for the a safe driving experience. BEST FOR - Google Maps, Apple Maps, Spotify, Apple Music and other apps used when driving.
Step 1: Put all the parts together
Step 2: Install the mount on the air vent
Step 3: Mount & charge your iPhone 14/13/12
Our USA based warehouses ensure that your package arrives at your doorstep in 2 - 7 days.
For the best local support.
Never worry about support taking too long. Our USA based offices and warehouses ensure the fastest support for all of our US customers.
Dimensions - 60mm (L) x 80mm (W) x 80mm (H)

Magsafe Compatible -

Yes
Strong magnetic hold that auto aligns and holds your iPhone in place

 

Specially created for iPhone 12, iPhone 13 and iPhone 14 series.

WHEN USED WITH CASE, PLEASE MAKE SURE YOUR IPHONE CASE IS MAGSAFE COMPATIBLE
Support

arm provides maximum

support

and relieves strain from the air vents

Hassle-free cable management

with in-built wireless charging

360-degree rotation, enjoy music in portrait mode or navigate easily in landscape mode
Q1: Does this work with Android phones?
A1: No, this charger is especially made for MagSafe compatible devices (iPhone 14/13/12) and MagSafe Cases. It does not work with Android phones.
Q2: How quickly will I receive my mount?
A2: Your item(s) might arrive in as quickly as 2 business days. We process and ship 99% of our in stock items the same day we receive it.
Q3: Does it work with my car?
A3: It will work with every flat air vent and most circular air vents (except Mercedes turbine style vents)
Q4: Does it work with a phone case?
A4: Works with ONLY MAGSAFE COMPATIBLE CASES. And can be used without a case aswell.
Q5: Will it work with iPhone 14?
A5: It will work perfectly with iPhone 12 series and above.
Q6: Does the magnet have any side effect on my phone?
A6: No, the latest smartphones and accessories are not affected by magnets and smartphones like iPhone 14, 13 & 12 have magnets inside them.
Journey for my car
I bought a journey for my iphone for my car. It works great, holding my phone upright, and in place throughout my journey, whether its my commute to work or on a longer trip. I love how it charges my phone on my way home from work. such that when I get home, I have enough charge to get me through the evening. My wife liked mine so much that she wanted one for her car. it's a great product and is well designed to keep your phone in place.
Loved warrantee
I needed a piece to be replaced. No hassle just a few emails and bam got a new replacement! Be experienced with customer service A+ Class!
Great accessory for iPhone - highly recommend!
I've been using Journey for 8 months now. It works great - love it!
MagSafe Wireless Car Charger
I'm always Leary of ordering from FB ads, but I'm very pleased with this product. I've had it for a week and it's working great. Love how easy it is to attached and unattached. I have a magnetic case on my phone but it doesn't seem to hold it unless I take it off. It's not a huge deal, but it would be nice if it would hold that firm with magnetic case. I do love this product and highly recommend! Best auto phone holder/charger I've purchased.
Stands the test of NYC pot holes
Strong and well designed for my needs . I made a bracket so it did not need to attach to the vent , but the magnet is perfectly strong so my phone stays on.