Woo your loved one with life-changing tech this Valentine's Day.
It feels like five minutes ago that the festive shopping season wrapped up. Valentine's Day, however, is already around the corner. So, what if you're still recovering from the busyness of the festive season? And what if you're still searching for new inspiration for Valentine's Day gifting?
JOURNEY is here to help steer you in the right direction.
Modern Valentine's Day Gift Ideas
Research company Roy Morgan found Australians planned to spend $415 million on Valentine's Day gifts last year. Most consumers had flowers in their sights (39%), along with chocolates/food and alcohol (28%).
That's no surprise, given how simple these gifts are to buy. However, they don't scream originality. Before you know it, the chocolates are gone... and the flowers have shrivelled up.
An alternative is to woo your loved one with a gift that makes everyday life permanently better.
JOURNEY's accessories for iPhones, AirPods, and Apple Watches are often a hit with tech-lovers on special occasions, such as Christmas, birthdays, and Valentine's Day.
So what about the tech-lover in your life?
We have compiled a few Valentine's Day gift choices that have already won many hearts.
The Rapid TRIO 3-in-1 Wireless Charging Station
The Rapid TRIO is an all-in-one wireless charger that simultaneously charges your phone, earbuds, and smartwatch.
When we have multiple Apple devices to charge daily, having the means to streamline our charging routine is a blessing.
The Rapid TRIO also eliminates cable clutter, because there is no need to plug in cords to have it charge your iPhone, Apple Watch, or AirPods.
Other unique features that differentiate the Rapid TRIO from other chargers are various.
The Rapid TRIO features a detachable USB-C Apple Watch charger that you can slip into your pocket.
Any time you are away from the TRIO, you can re-connect the USB-C Apple Watch charger to another other USB-C port (such as the one on your laptop).
The Rapid TRIO also features an AirPods charging pad that can charge a second iPhone.
This is especially convenient for people who have personal phone and a work phone. It's also ideal if your partner and you charge phones in shared spaces, such as kitchens or living rooms.
One of the Rapid TRIO's other popular features is its functionality as a phone stand.
Switch the Rapid TRIO between landscape and portrait, depending on the content you wish to view.
The Rapid TRIO also has an adjustable hinge that tilts 55 degrees. This ensures your special someone has the perfect viewing angle when they screen phone content at their desk.
---
GET 20% OFF JOURNEY FAVOURITES FOR VALENTINE'S DAY.
---
The Rapid GO Wireless Power Bank
The Rapid GO Wireless Power Bank is great if you use your iPhone when you take a bus or train in the morning. It's great if you spend long periods in the outdoors too. Likewise, it's ideal if you spend a lot of time on your mobile phone in communal environments where power outlets aren't always guaranteed, such as cafes.
Unlike traditional power banks, the Rapid GO is both wireless and pocket-friendly. It magnetically saddles on the back of your phone, and it is designed with soft rounded edges, so you can comfortably continue your mobile phone activity while the Rapid GO charges your device.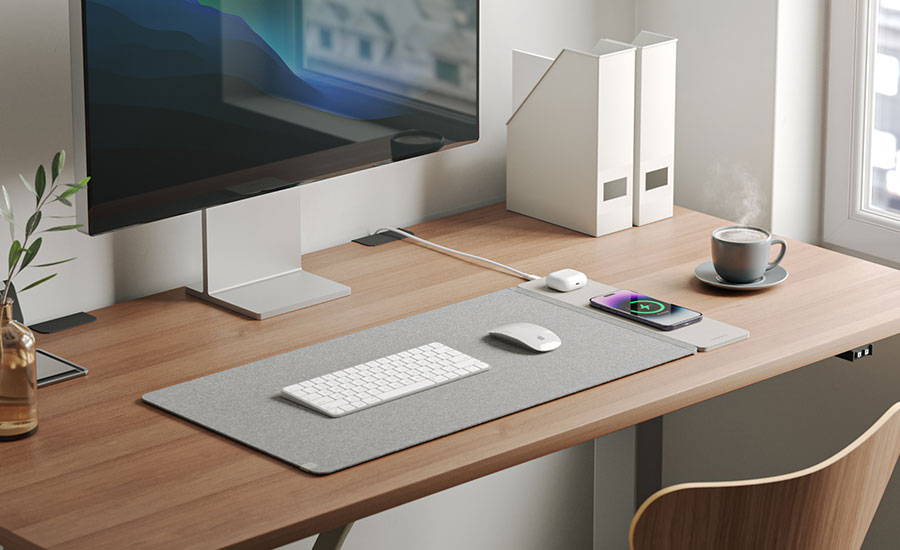 Valentine's Day sorted. The ALTI is a desk mat that doubles as a charger for your iPhone and AirPods.
THE ALTI Wireless Charging Desk Mat
If there's a special someone in your life who could benefit from a more orderly desk, JOURNEY'S ALTI Wireless Charging Desk Mat is the answer.
The ALTI is a reversible desk mat (flip it between plush felt and vegan leather) that is also a charger. It features a magnetically attachable wireless charging panel that tops up your iPhone and AirPods.
The ALTI can zone your partner's desk, and help demark open spaces for productivity and focus.
The ALTI also features an interior pocket that your Valentine can store key loose documents inside to declutter their desk.
A New Take on Valentine's Day
Make this Valentine's Day romantic in a different way. Appeal to the inner tech-lover in your partner, but don't forget to shower them with loads of care, affection, and hugs!
We wish you all a very Happy Valentine's Day in 2023.